"You'll Be COMFORTABLE Doing Business With Us"
Do I need Insulation?
When you care enough to create the ultimate barrier between your family and infiltrations from weather and sound.
High heating bills, drafty rooms and ice dams could be a sign that your home needs insulation. During our home insulation inspection, one of our energy consultants will come to your home to assess your insulation needs. We will complete a thorough inspection of wall and attic insulation and make recommendations for needed improvements.
Common Signs of Inadequate Insulation
*Do you have ice dams, icicles, roof "hot spots", high heating bills, high cooling bills or drafty walls?
*Does your furnace seems to run too much in the winter, and your air conditioning runs constantly all summer long?
If you answered YES to any of the above questions there is a good chance your insulation levels are inadequate. Re-insulating your home is one of the fastest and most cost-efficient ways to reduce energy waste and maximize your energy dollars.
See why Cellulose is superior to Fiberglass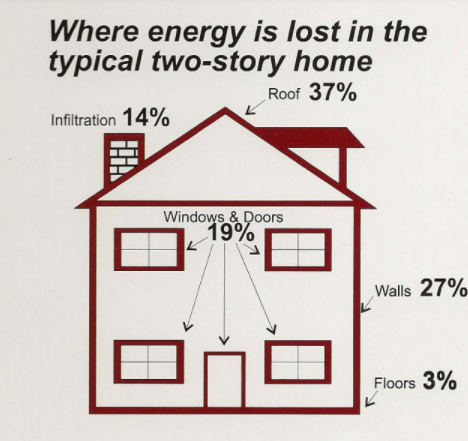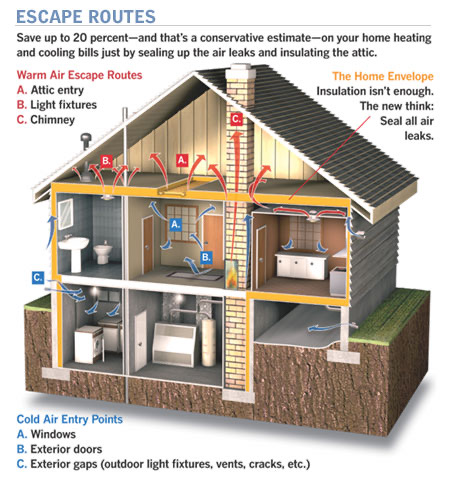 Is my home's R-Value high enough?
The United States Department of Energy warns homeowners that just 1 in 5 homes constructed prior to 1980 are sufficiently insulated as recommendations were not included in the building codes prior to 1980- there were no building codes for insulation minimums. This means that approximately 80% of homes built prior to 1980 are in need of better insulation! Even many homes after 1980 are not to current Department of Energy recommendations for our climate because the standards for insulation have consistently changed over the years including in 2020. If you're uncertain if your home falls within this category, contact us and we can help you determine if you're in need of insulation via an inspection.
The U.S. Department of Energy recommends homeowners have a certain depth of blown-in insulation in their attics. The amount recommended varies by climate zones. If your attic's insulation depth is below the recommended level please contact us for a free inspection/estimate.
Benefits of proper home insulation
Insulation increases comfortability in your home. Insulation saves you money throughout the entire year and increases your home value! Surveys have shown that people would much rather choose an energy efficient home over a home that has poor efficiency and poor insulation. Poor insulation allows your conditioned air to leave your home and let outside air in which wastes money and negatively impacts the life of your HVAC equipment as well. Properly insulated homes protect the environment by reducing your carbon footprint. A properly insulated home is good for your health according to the Harvard School of Public Health.
Call today for Free Estimate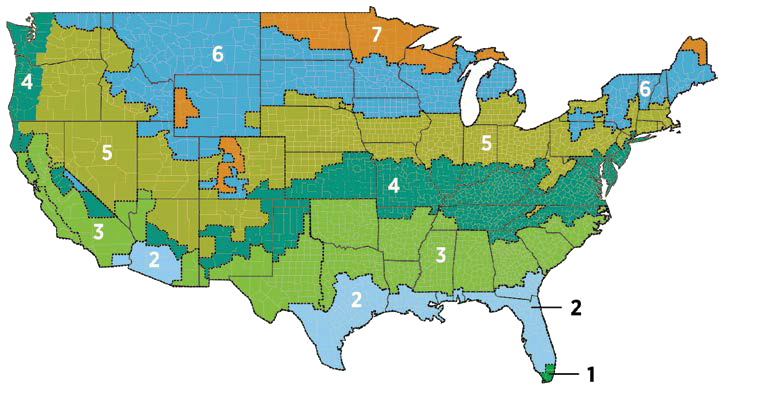 Insulation Industry Opportunity Study
Insulation is a cost-effective, easy-to-install product that can deliver energy savings for the life of the building. With building operations accounting for 30 percent of greenhouse gas emissions in the United States, installing air sealing and insulation is the first, best step toward decarbonizing the U.S. building sector.
A coalition of national insulation trade associations commissioned ICF, an international consulting firm with expertise in the energy and efficiency sector, to undertake an analysis based on a simple proposition: how much can we reduce U.S. greenhouse gas emissions by investing in easily achievable insulation improvements to existing single-family homes, commercial buildings, and industrial facilities? As a result of the study, we learned the opportunity associated with simple insulation measures is immense and can significantly contribute to lowering emissions attributed to buildings. The impact is the equivalent of increasing current wind production by 135 percent or offsetting the emissions associated with 40 percent of all natural gas-fired generation in the United States.
Key findings:
Energy savings ranging from 10 to 45 percent can be achieved in existing homes that are air sealed and have insulation added in the ceiling and floors (and walls in very limited circumstances) to levels prescribed by the 2021 International Energy Conservation Code.
Nationally, this retrofit activity could yield roughly 10 billion tons of carbon emission reductions over a 50-year period—the assumed useful life of building insulation. This is equivalent to eliminating over 25,000 natural gas-fired electrical generation power plants for a year, the annual energy use of over 1 billion homes, or operating almost 3 million wind turbines over a year.
Call today for Free Estimate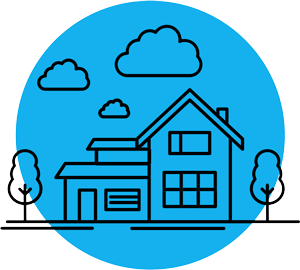 Ohio's Residential Energy Cost Savings and Upgrade Costs
| Total Annual Energy Cost Savings ($) | Total Cumulative Energy Cost Savings ($) | Average Cumulative Energy Cost Savings ($/SF) | Average Upgrade Cost ($/SF) | Total Upgrade Cost ($) |
| --- | --- | --- | --- | --- |
| $1,800,473,979 | $185,629,034,878 | $33.42 | $6.26 | $38,044,641,954 |
Ohio's Residential Economic Benefits
| Total Present Value of Lifetime Benefits ($) | Total Upgrade Cost ($) | BCR (Benefit to Cost Ratio) |
| --- | --- | --- |
| $24,543 | $11,156 | 2.35 |
Ohio's Residential Cost-Effective Retrofit Comparison
| Total Number of ResStock Models | Number of Cost Effective ResStock Models | Total Energy Savings from All Upgrades (MMBtu) | Total Energy Savings from CostEffective Upgrades (MMBtu) |
| --- | --- | --- | --- |
| 383 | 317 | 186,821,362 | 177,587,641 |