"You'll Be COMFORTABLE Doing Business With Us"
Fire Resistance
Insulation is an integral part of your home. Depending on the insulation you choose, there may be additional benefits (or dangers) that you may not have considered.
Cellulose Exceeds Tough Fire Standards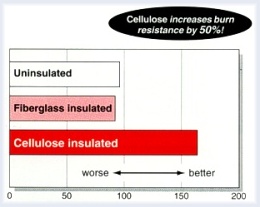 Cellulose insulation is the only building material in your home that is commonly treated with fire retardants. The result is exceptional insulation that meets or exceeds required fire safety standards and helps protect you and your family. Cellulose insulation actually helps make homes safer by providing up to 50% better fire resistance than fiberglass. In practical terms, this means that occupants have more time to reach safety in case of fire. Unlike fiberglass, it greatly restricts the amount of oxygen available to support combustion.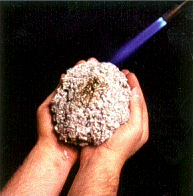 "11 minutes into the burn the ceiling of the uninsulated house collapsed, 10 minutes later the ceiling of the fiberglass insulated house also collapsed. The ceiling of the cellulose house did not collapse until 1 hour and 10 minutes after the burn started."
(Insulator's Guide, news account of fire demonstration)
Why Cellulose is superior to Fiberglass